Written by Isaac Tan from "Isaactan.net"(www.isaactan.net)
Now here's a good POS system designed to cater for micro businesses and small outlets to get off the ground running. The food and beverage business is really too fast paced, hence it is always good to be able to get the business up and running, especially in terms of point of sales system. I was at CAFE Malaysia 2018 the other day when Orca's booth piqued my interest. Read up more about it below.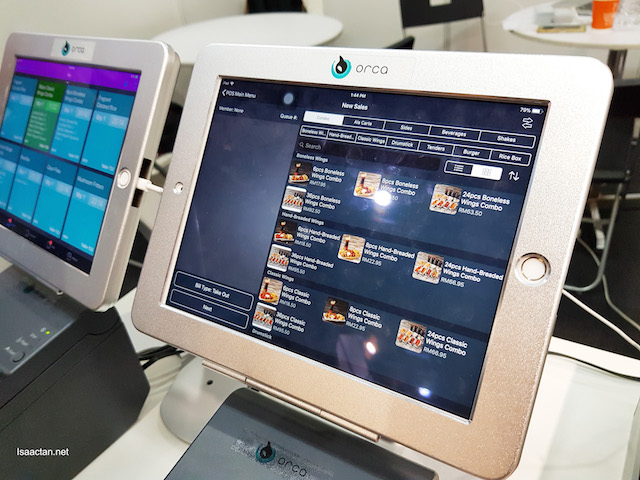 Orca BOS – iOS Based Business Operating System
First let's talk about the very comprehensive Orca BOS. While chatting with Dr Koh at their booth in CAFE Malaysia, I got to know there's a huge challenge in the F&B industry to ensure day-to-day operations run without a hitch. An integrated BOS goes a long way in making everything way smoother. Each of the tablet-based Point of Sale (POS) station have very intuitive graphical user interface, making it very easy to use.
Monthly subscriptions start from RM275 for 3 app systems per month. Not only does the system help in tracking orders to and from the system, generating receipts, it also offers inventory tracing and stock management, reports modules for generating product mix and sales information. How comprehensive is that! I'm impressed! Refer to picture below on their packages.
Do check out a video below on how Orca BOS system is used at Johnny Rockets Malaysia. Pretty cool stuff I tell you.
Orca Lite – Android-based All-in-one POS solution
For those who requires a simpler system, there's the Orca Lite – an affordable Android-based All-in-one POS solution that targets small F&B stays, food-trucks and micro businesses. This solution would cater to the smaller outlets who are just starting out, and may have a lower budget to invest in their POS system. It's still good, though not as feature packed as the Orca BOS.
Subscription for each location starts from RM80+ per month. Refer to picture below on their packages.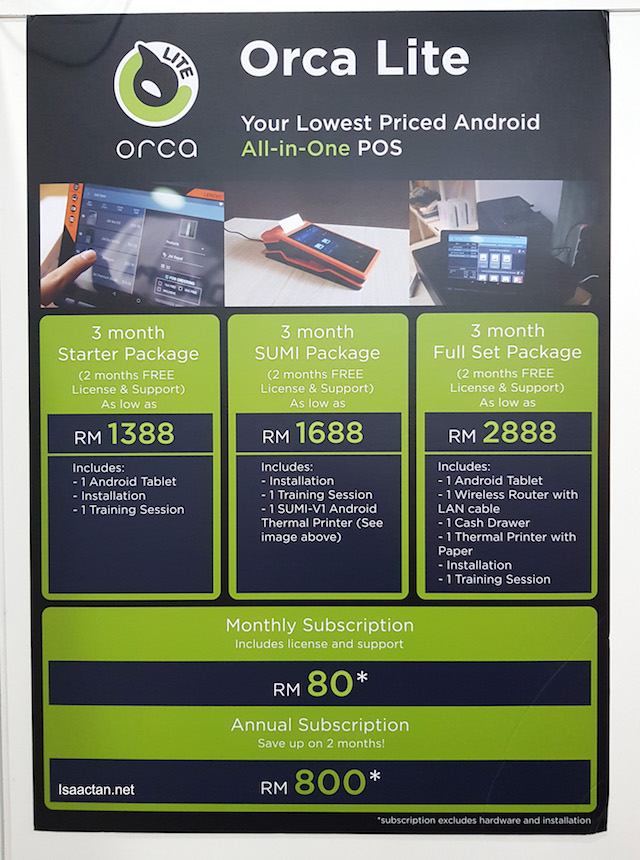 For more information, you must check out their channels listed below. Do note, each solution can be customised to specific needs of each restaurant and can also be integrated with third-party systems for a greater synergy. Win-win for all! Check out a video below on how their system is used at our local MARCO Creative Cuisine.
For a demo of the units, don't hesitate to contact them today!
Orca BOS & Orca Lite – Business Operating Solutions For F&B Businesses 
Email: enquiry@orcabos.com
Tel:  +6016 393 3478
February 13th, 2018 by Isaac Tan
Isaactan.net is a Lifestyle Website with emphasis on Events and Happenings Around Malaysia, Food Reviews, Travel, Movie, Technology, and Gadgets.
Email: isaac.tan@gmail.com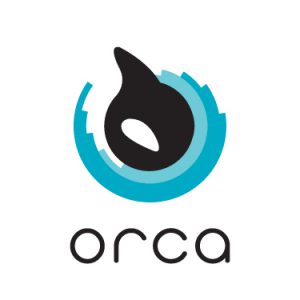 Tell us about your project ideas or just say hello. Whether you've got a big idea or something you really like, we are here to create your perfect solutions. From concept to creation, let us inspire you. Learn more at www.orcabos.com